Project dates
---
Full title of the project:
Robotic Exposure Map for Enhanced Disinfection
Short name of the project:
REMEDI
Date of the award:
23/08/2020
Project duration:
9 months
Company:
Blue Ocean Robotics
Country:
Denmark
Company Website:
https://www.blue-ocean-robotics.com/
Project partners:
Abstract
REMEDI (Robotic Exposure Map for Enhanced Disinfection) aims at exploring the possibilities to certify and extend the robotic product features of the UVD Robot – an autonomous, automated room disinfection robot that utilizes the power of ultraviolet germicidal irradiation, also known as UV-C light, to deactivate pathogens.
The development work will allow healthcare professionals to evaluate how well a patient room has been disinfected. The challenge is addressed by increasing communication and connectivity between robot and user through a cloud infrastructure as well as enhancing the usability of the robot with the help of detailed reporting on disinfection results through an exposure map and a user-friendly dashboard.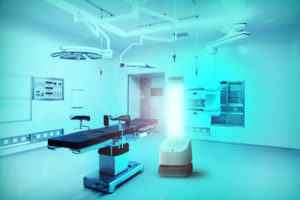 The results will have a positive impact on the time spent on disinfecting, thus optimizing the hospital workflow as well as on the cleaning quality, thus decreasing infection rate, saving costs on hospitalization, and ultimately saving patients' life. Healthcare-Associated Infections are a major problem for the healthcare system, giving rise to significant costs for hospitals. They are also one of the top 10 causes of death in U.S hospitals, claiming 2.5 million European lives each year (based on data from European Centre for Disease Prevention and Control). Infection rates can be prevented if the chain of infection is broken. Studies find that UV-C light can be used for disinfection (Rutala et al, 2010) and the first studies show the successful inactivation of SARS-CoV-2/COVID-19 (Bianco et al, 2020).