Project dates
---
Full title of the project:
ABLE Exoskeleton to Empower Independence and Rehabilitation After Stroke
Short name of the project:
ABLE After Stroke
Date of the award:
23/08/2020
Project duration:
9 months
Company:
ABLE Human Motion S.L.
Country:
Spain
Company Website:
https://www.ablehumanmotion.com/
Project partners:
Abstract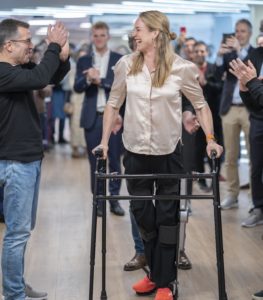 Enabling people to move on their own is crucial to unleashing full human potential. However, 0.1 billion people worldwide have a mobility impairment that restricts their participation in society. ABLE Human Motion is a start-up based in Barcelona that was born with a clear mission: enabling mobility, to everyone. Therefore, we develop exoskeleton technology to empower every person in a wheelchair, by providing better mobility and greater independence.
This TD project funded by DIH-HERO aims to advance the development of a disruptive ankle exoskeleton to improve post-stroke gait rehabilitation. So far, we designed and manufactured the prototype, which weighs only around 1kg and tested it with healthy subjects. The next step is to perform a clinical pilot study with 5 hemiplegic patients at Roessingh Research and Development (RRD, Netherlands). RRD is a Dutch research institute with close ties to a rehabilitation center for stroke. This collaboration has allowed us to work with a multidisciplinary approach, where the interaction of clinicians, patients, and engineers is key to create innovative products for the benefit of patients.
After project completion, the next steps to bring this innovation to the market will be technology improvement based on clinical validation results, safety and feasibility clinical trial, and CE mark certification (expected for the end of 2024).