News from the Network
---
Another exciting and productive year for the DIH-HERO project has passed. 2021 has been the third year for DIH-HERO and the second year of the COVID-19 pandemic with all its limitations concerning meetings, conferences and get-togethers but we have not decrease our efforts and initiatives and went through it with success.
In 2021, we took important steps towards building a network for innovation in healthcare robotics. These included the actions below:
We started with our series of webinars successfully. Two webinars were held. "Introduction to Healthcare robotics for robotics companies" was addressed to robotics companies who are interested in this growing market. "Introduction of Healthcare robotics for healthcare professionals" was an introduction about robotics targeted at healthcare professionals who are interested in healthcare robotics.
---
April 1st to June 30th – the Second Technology Demonstrator Call was open.
The major aim of this call was to stimulate cross-border collaboration among pan-European companies (SME's and slightly larger companies) working in the area of Healthcare Robotics and accelerate developments in this field, by demonstrating the feasibility of new, innovative and enhanced robotic solutions.


ACMIT Gmbh
Akara Robotics Limited
BEC GmbH
ConnectedCare Services b.v.
Hankamp Rehab
KINFINITY
Kurage
Loop Robots B.V.
Mov'it Srl
Also, in April DIH-HERO joined the digital European Robotics Forum with "FSTP Success stories" where the companies Voxdale and PAL Robotics shared their experience.
Furthermore, our project coordinator Dr. Françoise Siepel from University Twente moderated a workshop on "Robotics in Healthcare – future perspectives".
Our 1st DIH-HERO Knowledge Conference took place on May 19th – 20th (https://dev.dih/dih-hero-knowledge-conference/.) Due to the pandemic we offered a digital event which was attended by 150 participants.
The event included a series of presentations, speeches, and discussions focused on the following topics:
Medical Robotics – ongoing topics
Acceptance of social robotics in healthcare
Funding opportunities for healthcare robotics within DIH-HERO and beyond
Funding and start-up incubators
Horizon 2020 healthcare robotics projects
Certification and Standards
Technology and test environments
DIH-HERO success stories – innovative projects in healthcare robotics
EU Topic Group: Future roadmap for healthcare robotics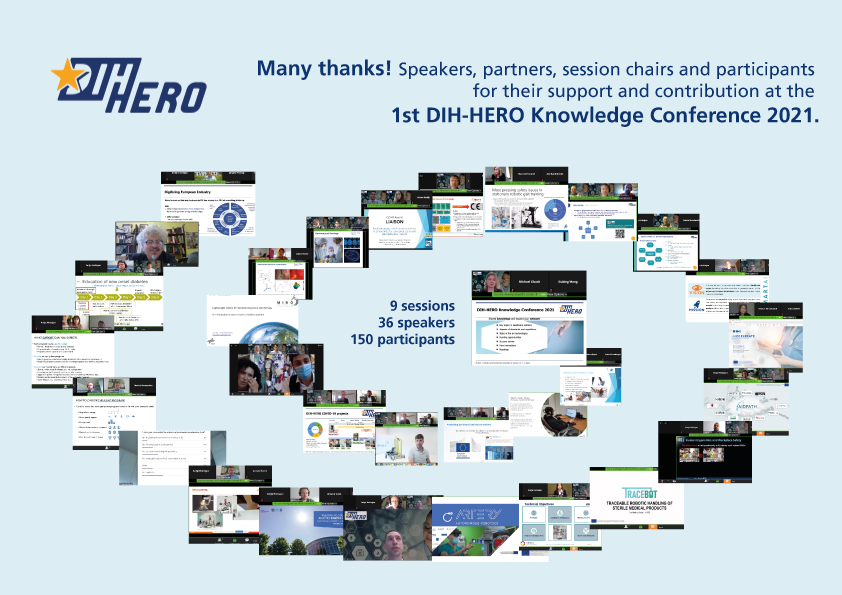 In June we received very good news! The European Commission has awarded a top-up budget of €3.5M to DIH-HERO as part of the EU response to the COVID-19 pandemic. Given our project's objective, to accelerate robotics innovation in healthcare across Europe and the extensive expertise of the network concerning healthcare robotics, the Commission considered DIH-HERO as the best candidate to accelerate the innovation and clinical deployment of robotic technology solutions.
https://dev.dih/dih-hero-the-leading-platform-for-robotics-in-healthcare-across-europe-is-delighted-to-have-been-awarded-a-top-up-budget-e3-5m-by-the-european-commission/
In October and November our database for services became available on the website. From now on DIH-HERO offers:
On November 25 – the second DIH-HERO Brokerage Event took place https://dev.dih/event/dih-hero-brokerage-event-2/
In December we started a survey to point out apparent healthcare needs for robotic technologies, identify challenges in the adoption of healthcare robotics technologies across Europe, present findings to a wider stakeholder audience and support companies in understanding market needs and deploying their technology in a clinical setting.
The short web survey (5-10 min) collects inputs from healthcare professionals focusing on medical doctors as beneficiaries of the healthcare robotics technology. We kindly ask you to fill in the questionnaire and share it with colleagues at your institutions, professional associations who can provide a significant contribution to this research:
https://dev.dih/questionnaire-for-assessment-of-needs-and-obstacles-in-adoption-of-robotic-technologies/
The collected data will be anonymised and will be used exclusively for the purposes of this research.
And last not least The COVID-19 Response call is still open:
Still open until February 15th, 2022: COVID-19 Response Call focusing on clinical deployment

This specific call is meant to accelerate the embedding of robotic applications in healthcare-related settings and to enable the smooth deployment of new, effective robotic-based solutions.

By funding up to 8 projects with a max. amount of €250.000 per project, the DIH-HERO network aims to stimulate technology pull from healthcare-related settings by developing clinical connections at earlier development stages. The intention is to boost fast deployment of robots (TRL7-8) in clinical settings all over Europe, satisfying a current clinical demand or need. The COVID-19 special actions focus on broad robotic applications, including response, recovery and support solutions, to address existing and/or post COVID-19 challenges. Specialised and individual deployment support will be provided by the DIH-HERO partners to the awarded parties.
Proposal submission:
February 15th, 2022 deadline for proposal submission (at least 2 end-users involved in the deployment must be included already in the project proposal)
Extended deadline for additional matchmaking:
March 15th, 2022 deadline for completion of project consortium (all 4 end-users involved in the deployment must be included in the 15thproject proposal)
For further information please visit https://dev.dih/covid-19-response-open-call-2021-for-healthcare-robotics/
And we have more plans for 2022!
Upcoming events, save the dates:
February 2022 – Virtual Conference about Healthcare Robotics for healthcare staff
March 22-24, 2022 – European robotics forum (ERF) in Rotterdam
The DIH-HERO is organizing the following Workshops.
Level of autonomy in healthcare robotics – How far should we go?
Industry experience with healthcare standards
DIH-HERO Success Stories of Innovation Coaching and Matchmaking
You can register under https://erf2022.eu/register/.
The 3rd Technology Demonstrator Call is coming up.
DIH-HERO wish you a merry Christmas and a happy new year.