DIH-HERO DISSEMINATION VOUCHER CALL
Marketing and dissemination materials like videos and pictures are essential to create a customer experience for innovations in healthcare robotics. The high cost for the preparation can be limiting the outcome of the marketing strategy and the visibility of the innovation.
The DIH HERO network offers a dissemination voucher to reduce these financial barriers and to promote the added values and benefits of robotic solutions and their deployment in the healthcare sector. The voucher can be used by small and medium enterprises (SMEs) or slightly larger companies for creating professional dissemination material (videos, pictures, footage and descriptions etc.).
Please note that the submission deadline for this call is the 15th of November 2023.
Further information can be found on the DIH-HERO Website www.dih-hero.eu
DIH-HERO PORTAL
Finding experts or new partners in the field of healthcare robotics can be very time-consuming. The DIH-HERO network has developed a web portal that supports an easy connection between stakeholders in the healthcare robotics ecosystem. Discover the Person Catalog and Organisation Catalog to find experts and organisations for specific topics.
If you are looking for specific services search in the service catalog.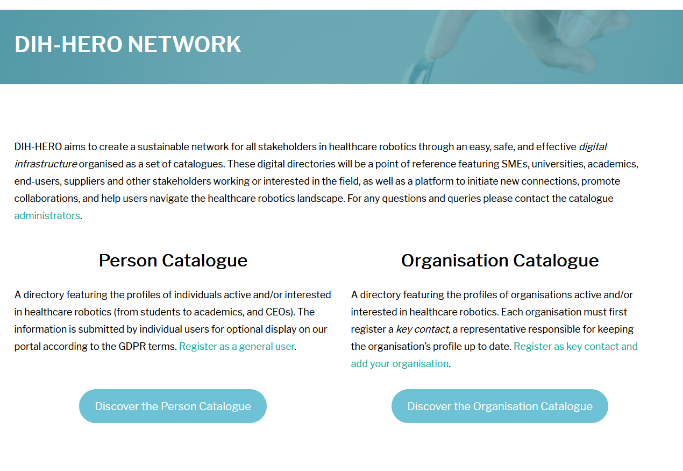 Events
AI, Data, Robotics Forum: 8- 9 November 2023
The ADR Forum is an annual event organised by the AI, Data and Robotics Association (Adra) in collaboration with the European Commission. It brings together leading experts, innovators, policymakers, and enthusiasts from the AI, Data, and Robotics community.
The focus of the event will be on Generative AI for European society and industry.
Further information about the event and the registration can be found under https://adrforum.eu/ .
21st Medical Robotics Conference: 8-9 December 2023
This annual conference in Zabrze (Poland) is one of the oldest and dedicated to medical robotics, covering all scientific and medical technology aspects of this field.
Further information under www.frk.pl and www.biomedtech.eu .
CYBATHLON Challenges: 2 February 2024
The 3rd Cybathlon challenges will take place on 2 February 2024. This event offers development teams the opportunity to involve people with disabilities in the development process and test the systems. A team can take part in one race of the eight CYBATHLON disciplines:
Arm Prosthesis Race
Leg Prosthesis Race
Brain-Computer Interface Race
Functional Electrical Stimulation Bike Race
Exoskeleton Race
Wheelchair Race
Assistance Robot Race
Vision Assistance Race
Teams can register till 27 October 2023 under: https://cybathlon.ethz.ch/en/events/challenges/Challenges-2024/CL24-team-registration
European Robotics Forum 2024: 13 – 15 March 2024
The European Robotics Forums one of the most influential robotics meeting in Europe and experts from industry and research come together to share the experiences and insights, having discussions and identifying new robotic application.
Further information can be found under https://erf2024.eu/.