Robot and Assistive Systems at Fraunhofer IPA, Stuttgart
The department "Robot and Assistive Systems" develops robotic systems and their key components for various application areas and has been active in this field for more than 40 years. We specifically see it as our goal to support companies by transferring robot technologies and applications into new products and solutions: from production and logistics to public environments, care facilities and private homes.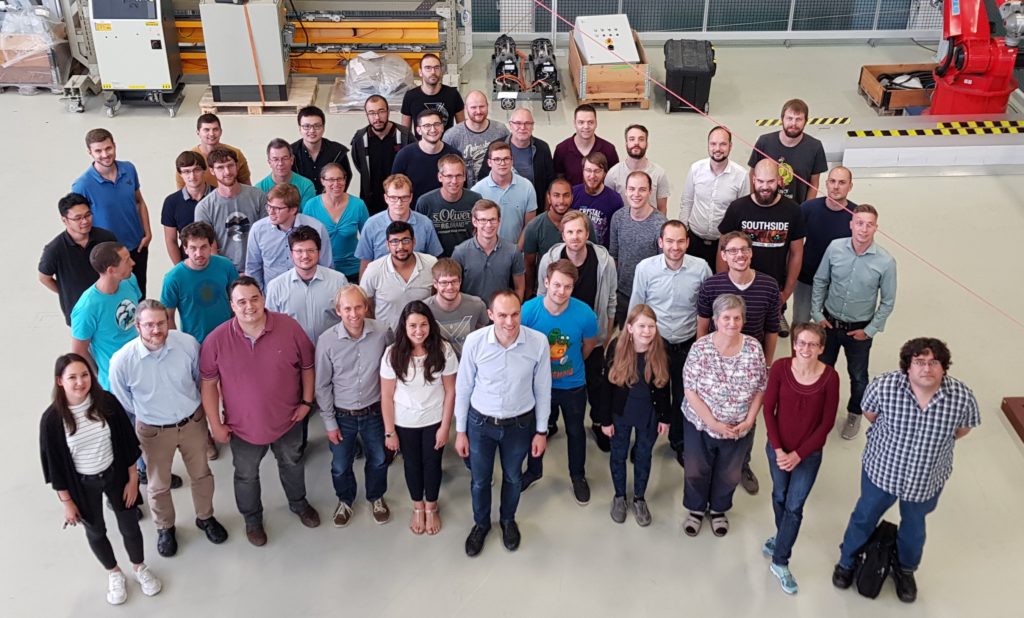 This is us
In our department, more than 60 scientific researchers work together in multidisciplinary teams in order to design and develop new solutions in industrial and service robotics. Excellent lab facilities including a large number of state-of-the-art robots as well as mechanical and electronic labs to manufacture new components allow us to develop working prototypes that can ealily be transferred into practise.
Competence in Domestic and Personal Robotics
The Domestic and Personal Robotics group is developing robots supporting elderly persons at home (see e.g. the Care-O-bot development series) as well as specialist robotic solutions to support staff in elderly care homes or hospitals (e.g. an intelligent care cart, service assistant, robotic lifter). Our expertise comprises robot hardware development as well as all relevant software components, e.g. for environment perception or object manipulation. Our advanced navigation software is already being used several times in industry. Due to their modular setup we are able adapt these technologies and our robots to any customer-specific needs.
---

"Our goal ist to develop healthcare robots that improve living and working conditions. Robots for private users enable people in need of care to stay longer and independently in their private homes. Assistive robots for care facilities are able to relieve nursing staff in their daily work in terms of time and physical load, thus giving them more time to interact with patients and residents."





– Dr.-Ing. Birgit Graf
---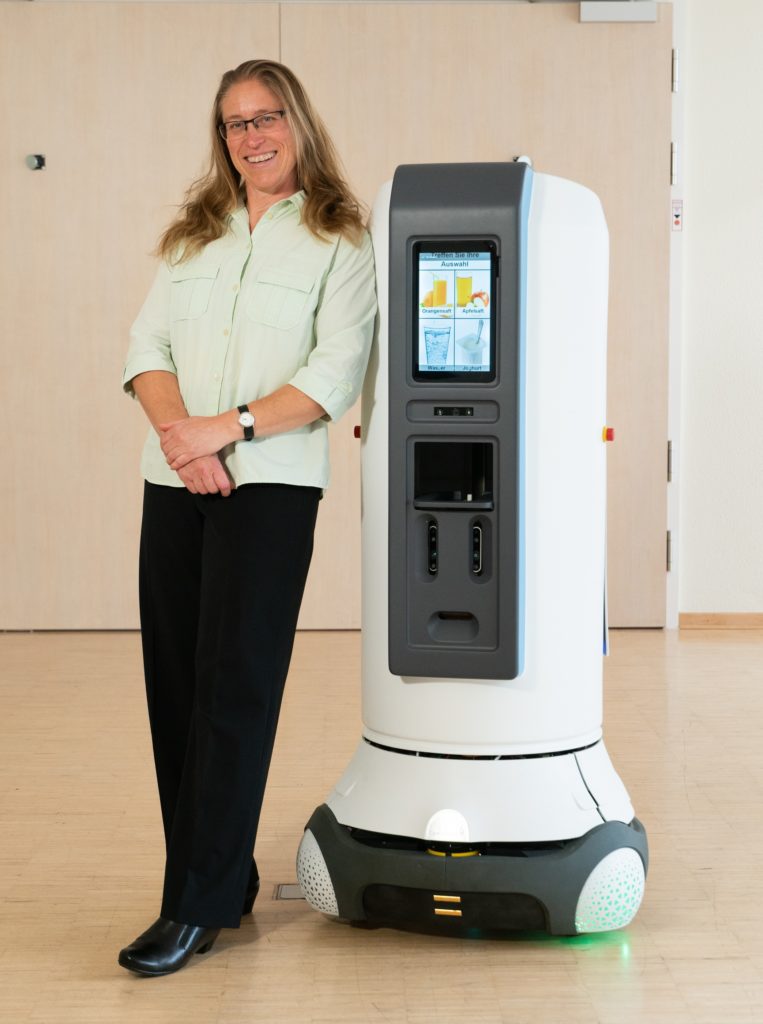 Dr.-Ing. Birgit Graf
Group Manager Domestic and Personal Robotics at Fraunhofer IPA
Our lab and showroom for healthcare robotics allows us to test our developments in realistic environments and present them to visitors in the field. Several robots are available for individual application development and evaluation.
The intelligent care cart is designed to reduce the legwork of care staff. It can be summoned from a smart phone and will then make its own way to the desired room. It can also register the material which has been taken from the drawers.
Care-O-bot® 4 is the product vision of a service robot to support elderly persons at home. A commercial version is already able to guide persons in public buildings. Due to its modular design, it can easily be adapted to new applications.
MobiKa is a low-cost mobile service robot for communication and interaction. For example, it can approach and address people with reminder functions or for information. Or it can be used as an autonomously navigating telepresence robot.
---
Our main services


Feasibility studies and concept development


Prototype and application development

Training and networking
Our team offers a variety of services allowing to identify the benefits of service robot technologies for a particular application area. We offer assistance in all phases of implementation.
A typical first step is to perform a customized market or requirements analysis for the selected application area. Based on our profound knowledge about the latest state-of-the-art technologies we are able to make a well-founded judgement. Once the requirements and application focus has been set, we work out a technical concept that fits our customer's needs.
We have long term experience in developing new robotic solutions both for private and for professional applications. We are also able to integrate service robotics technologies into existing products. Of course we also take into account relevant regulations such as safety standards. Another aspect and task that we see as essential is to bring the developed prototypes into practice, evaluate their performance and improve them accordingly. Once the robots have reached the right functionality and maturity level, using well-established methods, the technology is transferred to our industrial partners for commercialization.
Not only do we use our knowledge for technology consulting and development. We are also happy to support you with workshops, presentations and studies giving an overview of existing products, research activities and current trends concerning assistive robots designed for healthcare applications. Due to our technical background, we are also able to evaluate the maturity level of existing research prototypes and give a prognosis when they will be ready for commercial use.
Did you know?
For more than 20 years, we have been developing our vision of a service robot for the home "Care-O-bot®". Currently it is available in its fourth generation. Each stage of development improved the underlying technologies and generated different spinoff products. The current generation is in commercial use guiding visitors in retail stores and other public buildings.
Contact
Dr.-Ing. Birgit Graf
birgit.graf@ipa.fraunhofer.de